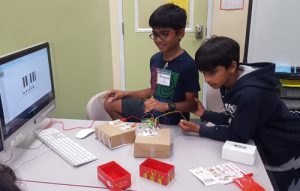 Dress Code
All campers should wear comfortable clothes to our camp with CLOSED TOE SHOES (no flip flop or sandals allowed) for safety in sports activities. For girls, shorts must be worn underneath dresses.
Day Pack Items (Must have daily)
* All campers should have a backpack including lunch tote for all personal belongings (name tags must be visible).
* A brown-bag lunch (no warm-up will be provided) & 2 snacks (AM & PM). Bring utensils as well (spoons, forks).
* Parents please check that food items are put in secure and sealed container or in original packaging to avoid leakage or spillage.
* Bring in a re-usable water bottle.
* All entering Kindergartners must bring a change of clothes including under-garment & socks.
* PLEASE DO NOT GIVE LUNCH MONEY TO YOUR OLDER CAMPERS AS WE DO NOT HAVE STAFF AVAILABLE TO BUY LUNCH OFF CAMPUS FOR YOUR CHILD *
Daily Check-In Policy
Please use entrance to our campus at 39995 Mission Blvd. (right next to Lucky)
* Parents must accompany students to our "Check In Station" located at the main entrance of our facility. No curbside drop off is allowed. Campers will be checked in daily by Camp Personnel. Our doors open for Morning Check-In at 8:00am.
* Early check-in students should bring a book or a quiet activity to do while waiting.
* Campers please check in on time daily. All morning programs start promptly by 9:00am. Late arrival simply creates interruption to class session and deters camper's full participation in our program.
* Campers who check in later than 9:30am may be asked to sit out from the 1st morning activity to minimize interruption to the class session. Parents please be mindful on this policy and encourage punctuality in your young children.
Daily Pick-Up Policy and Late Fees
* All campers will only be released to authorized individuals as stated on your official camp registration.
* Any special pickup arrangment must be made with notification to Learning Bee administrative staff at time of check-in.
* All Campers must be picked up at Learning Bee campus by 4:10pm. An Extended Care fee of $12 per day will be collected from the parents who pick up after 4:10pm.
* Extended Care Service may be pre-purchased on a weekly basis ($60 per week), or arranged with our staff on a daily basis ($12 per day).
* Learning Bee Campus closes offically at 6:00pm daily during the entire summer break. Campers who choose our Extended Care service (4:00 – 6:00pm) must be picked up by 6:00 pm sharp.
* Late pick up fee of $15 for the first 15 minutes after 6:00 pm and $1 per minute afterwards will be charged to the responsible parent.
* All campers must be signed out by Camp Personnel daily.
Field Trips
* We will be sending out information and notification to parents regarding field trips on weeks 2, 4, 6, and 8.
* Summer Camp Field Trip Destinations
We will update this page to reflect Field Trip Destinations once we have confirmed them.
An additional field trip fee will be collected from campers who are confirmed on the specific week(s) for which field trip is being scheduled.
Field trips are scheduled on Wednesdays of each designated week. On that day, Learning Bee will not be operating at its regular location. Students who opt out of field trips will need to find alternate arrangements.
Kindergarten campers will not participate in any field trips. They will stay at Learning Bee on all Wednesdays.
No refund will be issued on No Show/Absence for field trips or those who decline to participate in the scheduled field trip.
Alternate Extended Care on the Learning Bee Campus
Ms. Angela may be offering MPM Math during our extended care sessions. Details will be coming shortly.